Jerry Sheridan, Candidate for Maricopa County Sheriff, Former Chief Deputy; former Detention Officer
October 9, 2019 @ 6:00 pm

-

8:30 pm

MST

FREE/Contributions-Donations Welcomed
Who is Gerard "Jerry" Sheridan?
Jerry as he prefers to be called was born and raised in Queens, N.Y. in 1958. His mother BettyAnn was a stay home mom and his father was a New York City Police Officer. He has an older sister and younger brother. Jerry attended Catholic School from 1st grade thru 12th, which he feels ga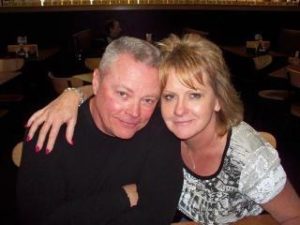 ve him a solid educational background. When his father retired as a lieutenant in 1976 the family moved to Fountain Hills, AZ. This is where Jerry found his life's calling.
In January 1977 Jerry attended the Maricopa County Sheriff 's Office Reserve Deputy Academy. Upon graduation he worked out of District 1 in the southeastern part of the county. He worked construction during the day and rode at night with legendary deputies like John Schattenburg and Nate Jackson who had a profound influence on the rest of his career.
In 1978 he hired as a detention officer and then a deputy sheriff attending the Phoenix Police Academy. As a patrol deputy after five years Jerry was promoted to Corporal assigned a squad and transferred to District 4, a newly created substation that served the northeastern portion of the county. A couple years later he was promoted to sergeant staying in patrol. A couple of years later he found himself as a lieutenant still in patrol and now completing the administrative duties of the District while still working the road.
He always laughs when he remembers a story where he was investigating an injury accident on Bell Rd and 40 St on the Phoenix border. A Phoenix police officer stopped and asked him what those bars on his collar were. Jerry was perplexed for a moment by the question. He told the officer they are lieutenant bars. Then the officer asked what are you doin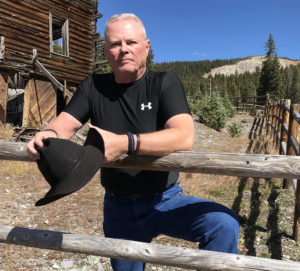 g? He was told taking the accident. The officer said yea but you are a lieutenant why are you taking the wreck? Jerry's answer was simple, there was no one else available. The Phoenix officer said that would never happen where I work and walked away. Jerry likes this story because it goes to the core of what a deputy sheriff is all about, service to the citizens and its a team effort. That is why he always loved patrol. Patrol is where MCSO helps the public the most.
It was also one night on patrol at about 0200 hrs. while at a barricade subject situation that really changed his life forever. He met his wife Stacie. And no she was not the "bad guy" she was the daughter of one of the deputies. They have been inseparable best friends and married for 30 years since. They have two daughters, two grandchildren and a great son-in-law. Jerry attributes all this to he being a member of MCSO.
Jerry was transferred from patrol to Security and Transport and played a key role in uniting deputies and detention officers whose main responsibility was to transport inmates to court appearances and other appointments. He had a short time as the Property Management Division Commander before being transferred back to patrol.
In 1993 Jerry was once again promoted, to the rank of captain. He was assigned to Dist. 3 in the northwestern part of the county. This area included the communities of Sun City, Sun City West and Wickenburg. About one year later he was moved back to lead Dist. 4.
A few years later Jerry received a call to come see Sheriff Arpaio right away. On his hour drive down from Cave Creek he was concerned about why the sheriff with whom he had had little contact wanted to see him. Sheriff Arpaio wanted to promote him to Chief of Patrol. What Sheriff Arpaio told him he wanted Jerry to do was short yet powerful. The Sheriff said he wanted Jerry to do two things; make sure your deputies are out arresting all the bad guys they can while taking good care of all the good people like changing someone's tire or getting a cat out of a tree, that is one; two, make sure the deputies are having fun doing number one. Jerry asked the chief deputy Jadel Roe why Sheriff Arpaio picked him for the job. She told him it was because about a month before Arpaio asked him a question and Jerry told him how he really felt not what the Sheriff wanted to hear even after the Sheriff argued with him he did not back down. She told Jerry the Sheriff respected people like that.
A few years later Jerry was promoted to Chief of Custody. The MCSO jail system makes up 75% of the personnel and budget of the Office. It was a challenging job as the responsibility for the largest construction project ever undertaken by a county government was placed in his lap. Two mega jails, a food factory, laundry, distribution center, training center and thousands of officers had to be designed, planned, built and hired. These jails are now know as 4th Avenue Jail and the Lower Buckeye Jail. Jerry was able to finally settle the over 30 year long Federal litigation involving inmate rights originally known as Hart v Hill. During the twelve years Jerry was the Chief of Custody he was appointed to the Arizona Peace Officers Standards and Training Board first by Governor Hull and two subsequent governors, he considers this the highlight of his career. He also obtained his Masters in Organizational Management and graduated from the FBI National Academy.
In 2010 Sheriff Arpaio asked Jerry to become his Chief Deputy. Jerry was almost immediately inundated with federal litigation, audits, administrative issues and reorganization. The line of duty death of Deputy Coleman in January 2012 resulting from a violent gun battle was the most painful time for him. The Melendrez litigation which had been in progress many years prior to Jerry becoming chief deputy came to a head. It was a punishing time for Jerry but he feels the six years, as difficult as they were, prepared him to become Sheriff.