Maasiai Montenegro, Regional Field Director West Valley of VAMOS
August 10 @ 6:00 pm

-

8:30 pm

MST

FREE/DONATIONS-CONTRIBUTIONS WELCOMED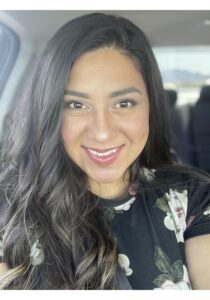 L. Maasiai Montenegro
Maasiai serves as the West Valley Regional Director for ¡Operation Vámos!
Prior to Joining Operation Vámos, she served as a substitute teacher at a charter school for K-8th grade, a paralegal at a law firm, worked with at risk youth, with non-profit organizations and in ministry. She has served as a precinct committeewoman for several years and has volunteered on numerous campaigns. Maasiai has dedicated her life to serving and empowering teenagers, young people and families in personal, professional and faith development.
Today, Maasiai connects and inspires the hispanic community in the subjects of their values and community involvement through grassroots engagement. Maasiai Studied Political Science and Communications at Arizona State University. In her free time, Maasiai enjoys reading, hiking and sharing faith and hope with her community
!Operación Vamos!
All around the country we are seeing how the Biden agenda is hurting hard working Hispanic families. From raising gas prices and more for groceries – to limiting parental rights and government overreach. We must stop them by winning control of the Senate in November. But we need your help!
Here at the National Republican Senatorial Committee, with the support of the RNC and the state Republican parties, Operación Vamos is being launched in battleground states. During the next several months we will be taking our opportunity message directly to Hispanic voters and we want to invite YOU to be a part of this historic effort. Sign-up today to find-out how you can help stop Biden and together we can take America in better direction ¡Únete hoy a Operación Vamos! 
Wednesday Aug 10, 2022 – iHop, 4201 W. Bell Rd., Phx, Az
doors open 6 pm; starts 6:30; speaker 7 pm.
See y'all there!