US Congressman Andy Biggs, our Guest Speaker, Fighting for our Country and Arizona, Election Integrity, our Borders, and much more.
August 25, 2021 @ 6:00 pm

-

8:30 pm

MST

FREE/Contributions Welcomed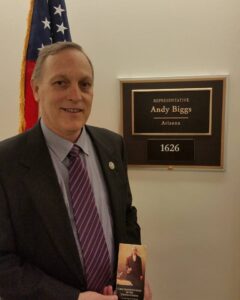 Congressman Andy Biggs, Arizona native is currently serving his third term in U.S. House of Representatives, coming from Arizona's Fifth District. He lives in Gilbert with his wife of 40 years, Cindy. They have six children and seven grandchildren.
Congressman Biggs received his bachelor's degree in Asian Studies from Brigham Young University; his M.A. in Political Science from ASU; and his J.D. degree from the University of Arizona. He is a retired attorney, who has been licensed to practice law in Arizona, Washington, and New Mexico.
Before being elected to Congress, Congressman Biggs served in the Arizona Legislature for 14 years – the last four as the Arizona Senate President.
Congressman Biggs is a member of the House Judiciary and Oversight and Reform committees. He is chairman of the House Freedom Caucus, co-chair of the Border Security Caucus, co-chair of the War Powers Caucus, and Chief Regulatory Reform Officer of the Western Caucus.
Congressman Biggs has a lifetime rating of 100% with the Club for Growth, 98% lifetime score with FreedomWorks, 95% lifetime score with Heritage Action, 100% rating in the 116th Congress for National Right to Life, and a 99% career grade from NumbersUSA.
Congressman Biggs is scheduled to speak to our GRTP on Wednesday Aug 25, 2021.  A small glitch in scheduling due to the US Congressmen being called back into session on Monday Aug 23, 2021.  Believe it has to do with an important vote in the House that we need all our Congressmen there to win against the Communist Liberals.
I have been in contact with Carolyn his Office Staff person.  She suggested either a virtual meeting or having the congressman send us a video so we'd still have the Congressman with us on Wedneday evening.  Due to the 3 hr time difference between DC and Arizona, we felt it was best to have Congressman Biggs send us a video which is better than nothing.  That's where we left it late Friday email.
Please help us with your support of the Congressman by joining us this Wednesday, Aug 25, 2021 at iHop, 4201 W. Bell Rd, Phx. Az.
Meeting still same time, door opens 6 pm; mtg at 6:30; speaker at 7 pm.  Possibly write down any questions you have and we'll make sure they get to the Congressman.
Thank you for your understanding.
See y'll Wednesday Aug 25, 2021